Railway Line
Edit
Dumfries was first connected to the network in 1848.  The current railway line was opened in 1850.  The original station was further South than the current site.
Dumfries Station
Edit
The current station was built in 1863.  The East platform buildings were constructed between 1875 and 1876.
Closed Railway Lines
Edit
Dumfries to Lockerbie
Edit
Opened 1 September 1863 and closed on 4 May 1964. A section has been converted into a shared cyle path.
Dumfries to Moniaive
Edit
Opened 1904 and closed to passengers in 1943 and freight in 1949.  The tracks were lifted in 1953. Apart from a few buildings little evidence remains of this railway.
Dumfries to Stranraer
Edit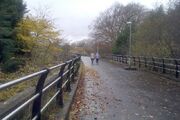 Also known as "The Port Line" or "The Paddy Line" this closed on 14 June 1965.  Maxwelltown had it's own station on this line which closed in 1939. The tracks were removed between 1967 and 1969.

A small part of the line was retained from Dumfries to Cargenbridge.  This was to allow rail access from both the ICI and the Carnation factories.  This remaining line was finally closed in 1990.

The Dumfries to Cargenbridge section of this line has been converted into a shared cycle path.  It includes the viaduct that crosses the Nith near the former Carnation factory.
External Links
Edit
Train at Dumfries Station 1964